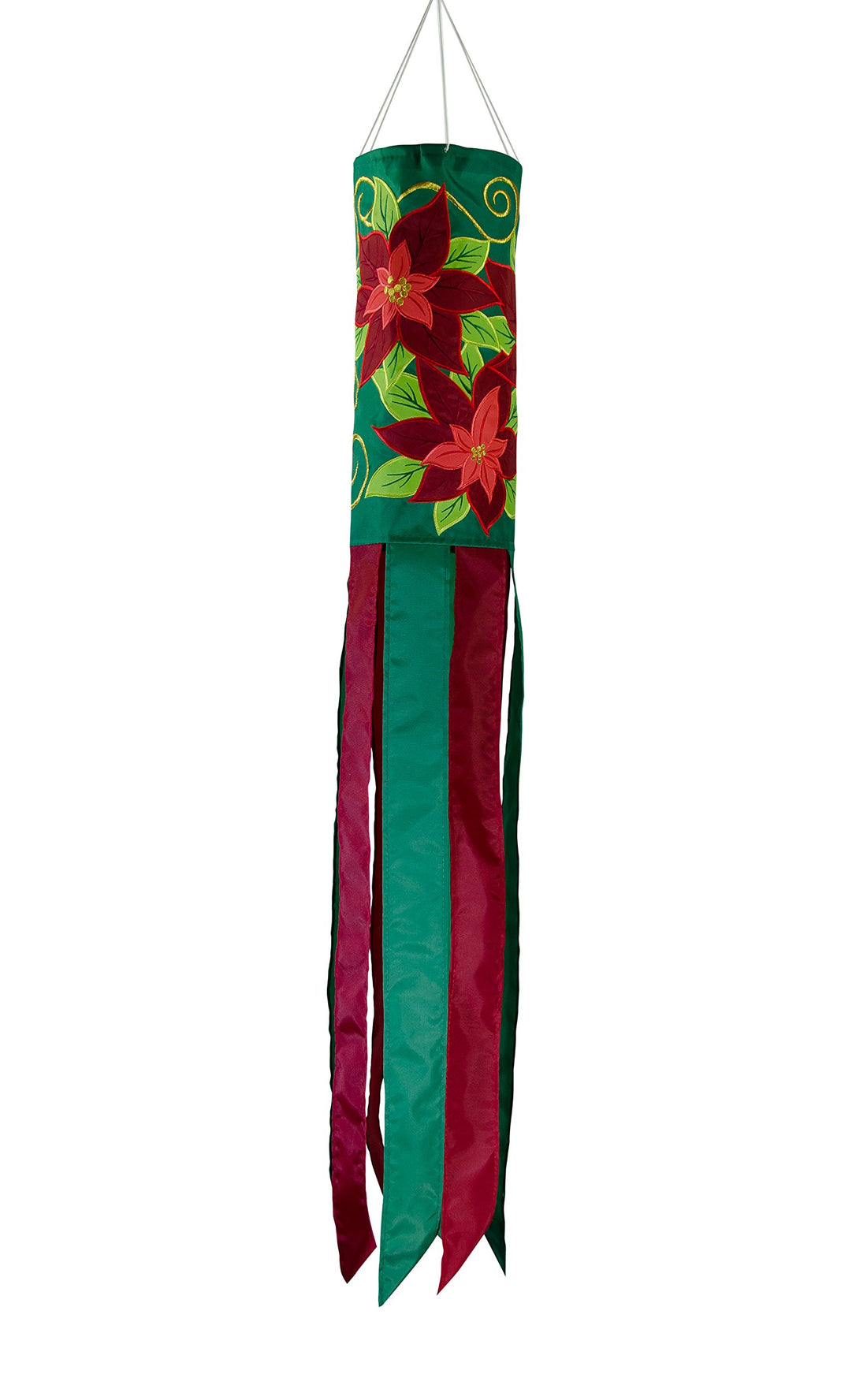 In the Breeze - Poinsettia Holiday Windsock
In the Breeze Item #5027 - Poinsettia 40" Windsock. Celebrate the holiday season with our Poinsettia windsock.
Measures 40 inches long by 6 inches wide. This Red and Green, with gold accent, windsock will look great on your porch, deck or yard.
Made out of weather and fade resistant fabric, each windsock is a combination of applique and beautifully embroidered details.
No assembly required. Simply take out of the package and hang with the attached snap swivel clip.
This lovely Poinsettia windsock is a great way to bring bright color and fun on a dull winter day!
Add a bright splash of color to your home this holiday season with the In the Breeze Poinsettia 40†Windsock. Each windsock is a combination of appliqué and embroidered details. Seasonal colors of red, green and gold are a cheery display in the long months of winter. This beautifully detailed windsock is sure to please everyone. Get one for yourself and get one for a friend! Check out the other In the Breeze holiday windsocks that are available too. In the Breeze is a family run, US company, based in Central Oregon. We have been a leader in manufacturing outdoor fabric decorative products, kinetic spinners and kites for over 30 years! We take pride in our award winning designs. Our product development team pays attention to every detail, using the best fabric compositions, color trends, printing techniques, sewing and embroidery applications. In addition, we are using innovative connectors, fiberglass, string, swivels, adherents and findings. Every step of the way we are involved in the process and design of each unique item. In the Breeze stands behind every product we make. If you have any questions or concerns don't hesitate to contact us. In the Breeze believes that color processing and motion stimuli are essential to both adults and children. Get outside with your family and friends and enjoy all that In the Breeze products have to offer. Color our world with color in motion! -The In the Breeze Team