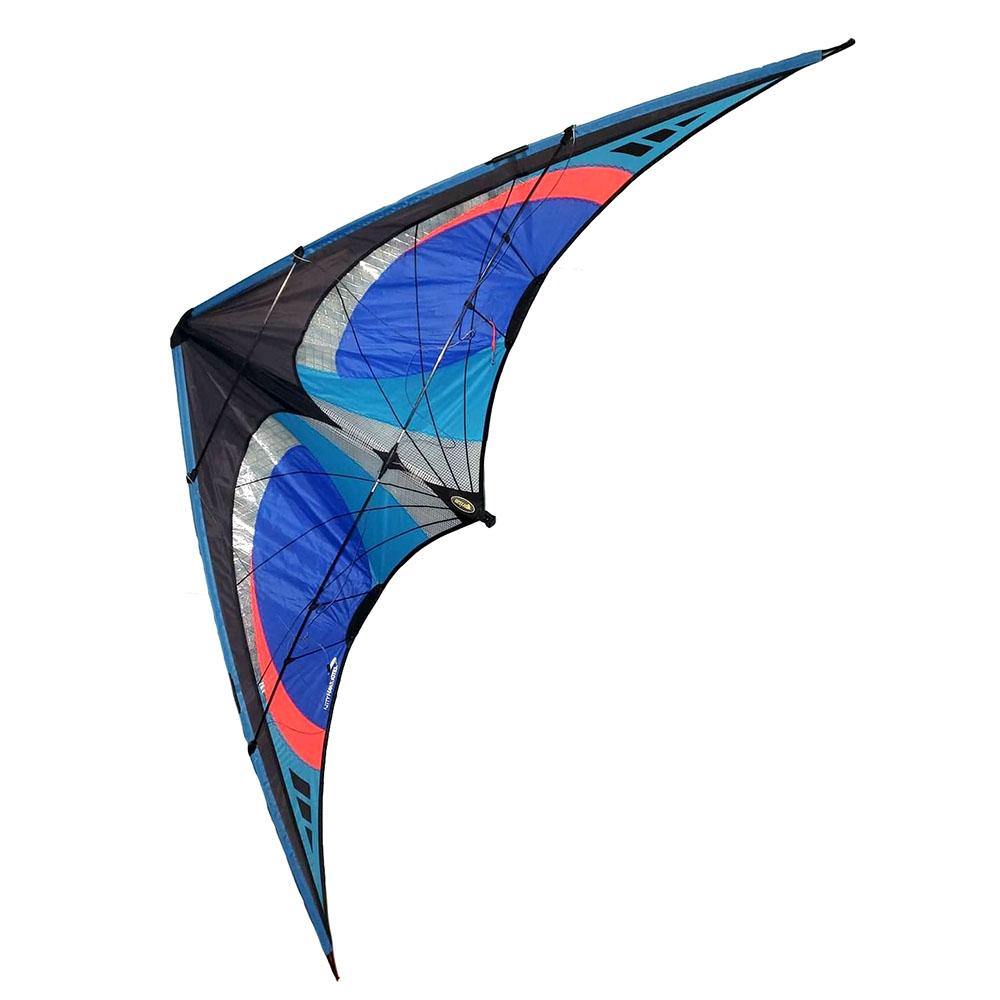 Prism - Special Edition KHK Logo Prism Quantum 2.0 Dual Line Stunt Kite
An exclusive Prism Quantum 2.0 for Kitty Hawk Kites!
We've tweaked the wing shape to give it even better tracking and additional stability, making it easier to keep aloft in light winds without pro-level skills.
We've made a subtle change to the bridle geometry and added a super-quick, one-step bridle adjustment at the center T so it's a cinch to set your kite for different winds.
We've upgraded the bag to a new design that lets you roll it up and clip to a belt loop while you fly – no more bags blowing down the beach in the wind. An external pouch for your lineset keeps it from getting tangled. In a hurry to get off the beach? A cleverly hidden extension sleeve pops out if you want to store your kite full-length without folding the leading edges.
The Quantum now features removable, color-coded line attachment clips, so you can just pop off the clips if you prefer to attach lines with an old-school Lark's head knot.
Ready to replace a well-loved older Quantum? The Quantum 2.0 keeps the same frame geometry, carbon rods and fittings so it's backward compatible – no new spare parts needed!
Specifications
| | |
| --- | --- |
| Packaged Weight | 1.5625 lbs |
| Packed Size | 36 × 4 × 4 in |
| Wing Span | 87" (221 cm) |
| Wind Range | 3 – 25 mph (5 – 40 kmh) |
| Frame | Pultruded Carbon |
| Sail | Ripstop Nylon, Mylar Laminate |
| Flying Lines | 85' x 150 lbs Dyneema® (26 m x 68 kg)  |
Very happy
A superb kite that flew all the way to the UK from the USA very quickly. It is a great looking kite (special custom colours!)and a faultless service from Kittyhawk, thank you
Awesome Kites
Kitty Hawk Kites has what you need and will fulfill your order very quickly.
I bought 3 of the exclusive Prism Kites and some accessories. Very happy with my experience.
Well Satisfied
The 2021 KHK Logo Quantum 2.0 has proven to be a pleasure to fly in moderate to heavy winds. I haven't had a chance to try it in a 3 mph breeze, the low end of the rated wind range. Even if it doesn't fly in 3 mph breezes, I'm happy with its performance. I'm definitely not an expert flier, but I find this kite easy to control, responding crisply to inputs without jerky movements being a problem.
The kite appears sturdily built and has survived a few crashes without incident. The KHK 2.0 version is a good sized attractive kite available from KHK at a good price. I believe it is a good choice for most wind conditions.