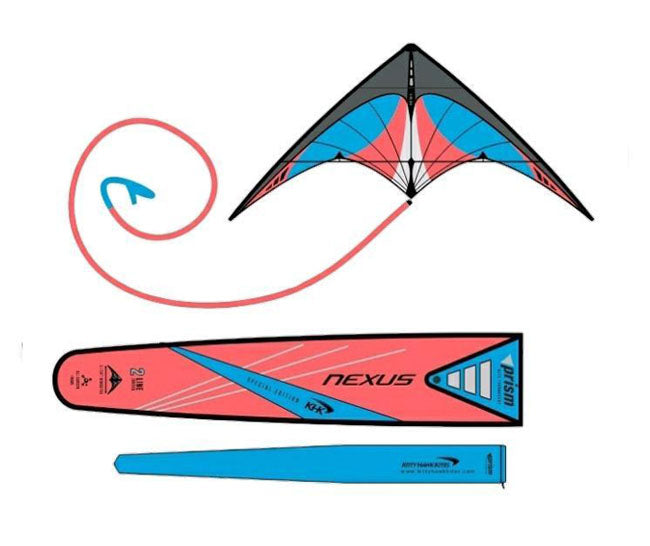 Prism - Special Edition KHK Logo Nexus 2.0
An exclusive Prism Nexus design by Matt Bissell, custom for Kitty Hawk Kites now upgraded to the 2.0 model! 
New features - includes a spare kite sleeve, matching tail and small repair kit!
The Prism Nexus Dual Line Stunt kite is a great kite for traveling. The Nexus sport kite's features include collapsible leading edges for easy packing, high grip elastomer connectors, Kevlar reinforced nose and tail, and quick-attach, color coded bridle clips.  The Prism Nexus dual line trick kite is tough enough for the beginner stunt kite pilot! The Prism Nexus stunt kite includes a compact carrying case, line set and wrist straps (Ready-To-Fly).
Skill Level: Beginner to Intermediate
Kite Wing Span: 60"
Size in Travel Bag: Approximate Dimensions 30" L x 5" W x 3" H
Wind Range: 4-22 mph
Frame: Carbon and Fiberglass
Fabric: Ripstop Nylon/ Mylar Laminate
Line: Includes 90 lb. x 65ft Test Spectra Line With Winder and Wrist Straps
Features:
Carbon frame flies easily in lighter winds
Fast and quick-turning for extra excitement in stronger winds
Kevlar-reinforced nose and flexible fiberglass spine absorb the shock of unplanned landings
Solid pull provides extra feedback for new pilots
Compact, take-it-anywhere package includes Spectra lines, winder, flight straps, and travel case
Prism is worth it
First Prism coming from other brands. Immediately noticeable how much better this kite is. I went from struggling to axel to accomplishing it within an hour of flying this kite. The other bells and whistles are nice (extra transport bag, velcro tie etc.). One thing to note is on the actual kite vs the store page. The white part of the kite on the store page is actually transparent (way cooler) and the pink is more of a vibrant orange. I dig the colors more in the actual than the store page.
Nice first stunt kite
Bought this after struggling with a cheaper toy store stunt kit. There's no comparison; the Nexus is SO much easier to fly. I now feel like I'm learning, instead of just fighting to stay in the air. This KHK edition looks great, and comes with some cool extras like a ribbon tail, extra storage sleeve, and some spare parts.
Great stunt kite
This kite is easy to assemble and then dismantle for storage. Kite is very responsive and is tough enough to withstand crashes, as I am a inexperienced stunt kite flier.