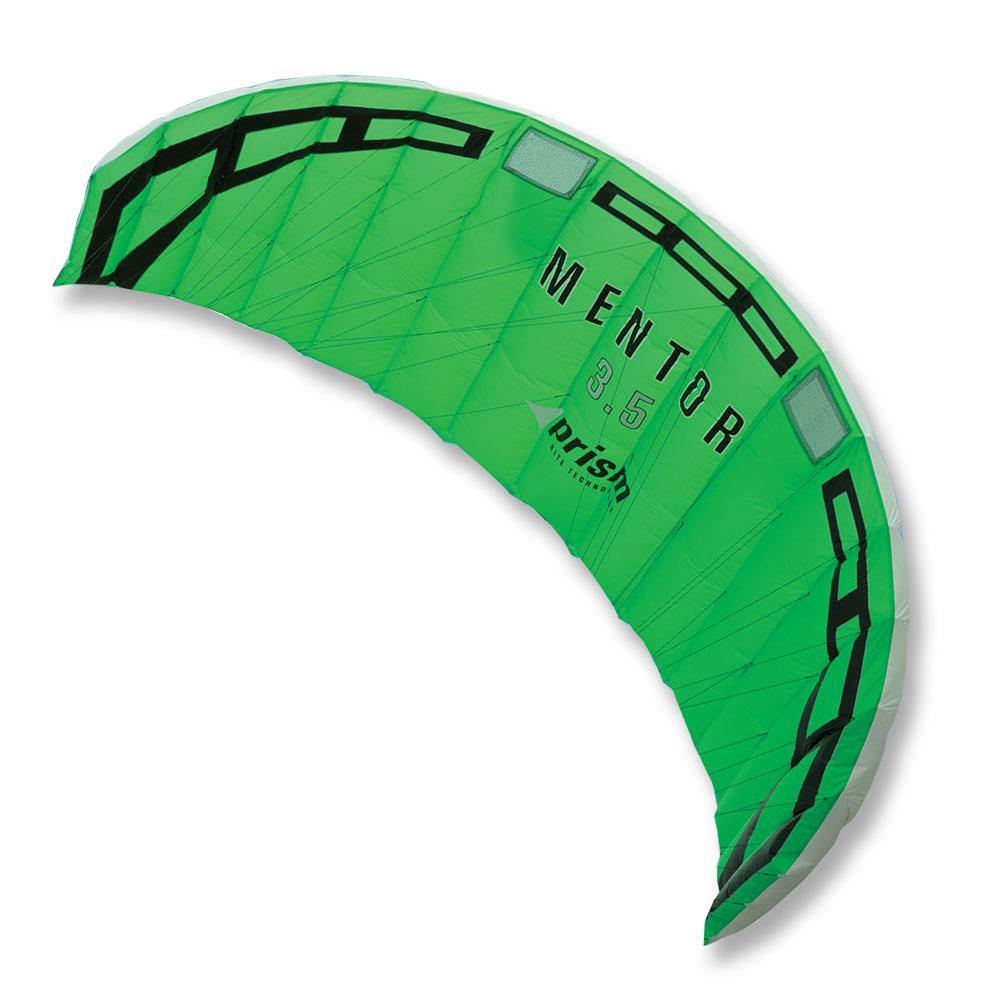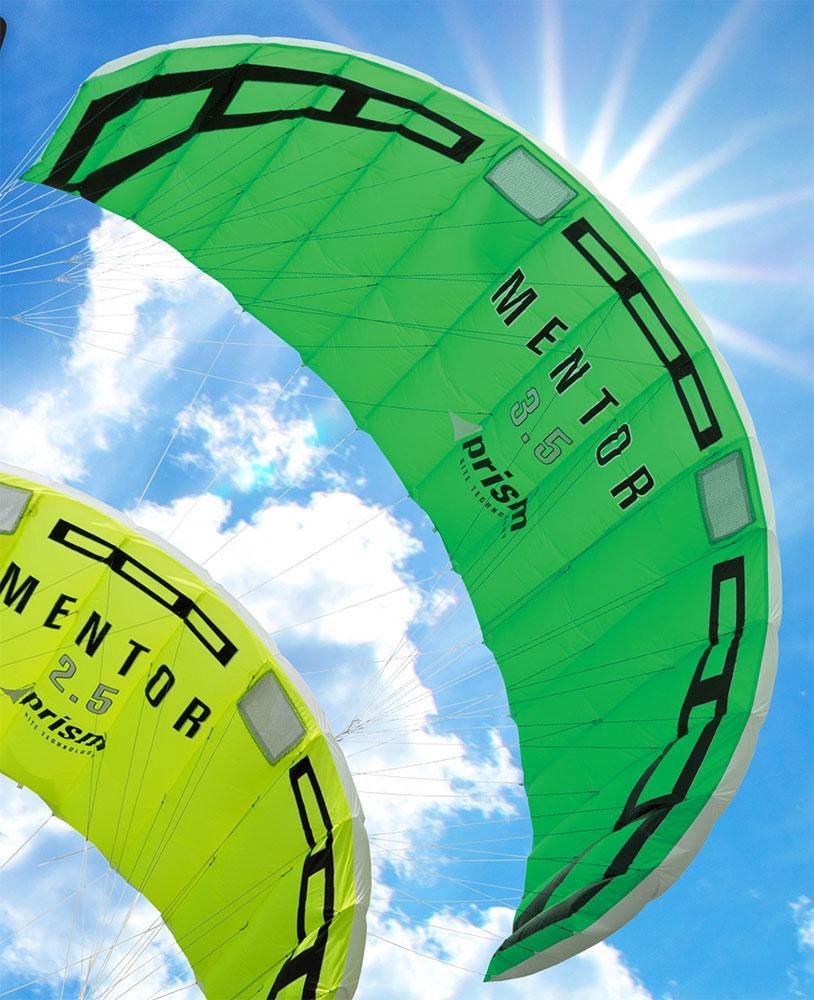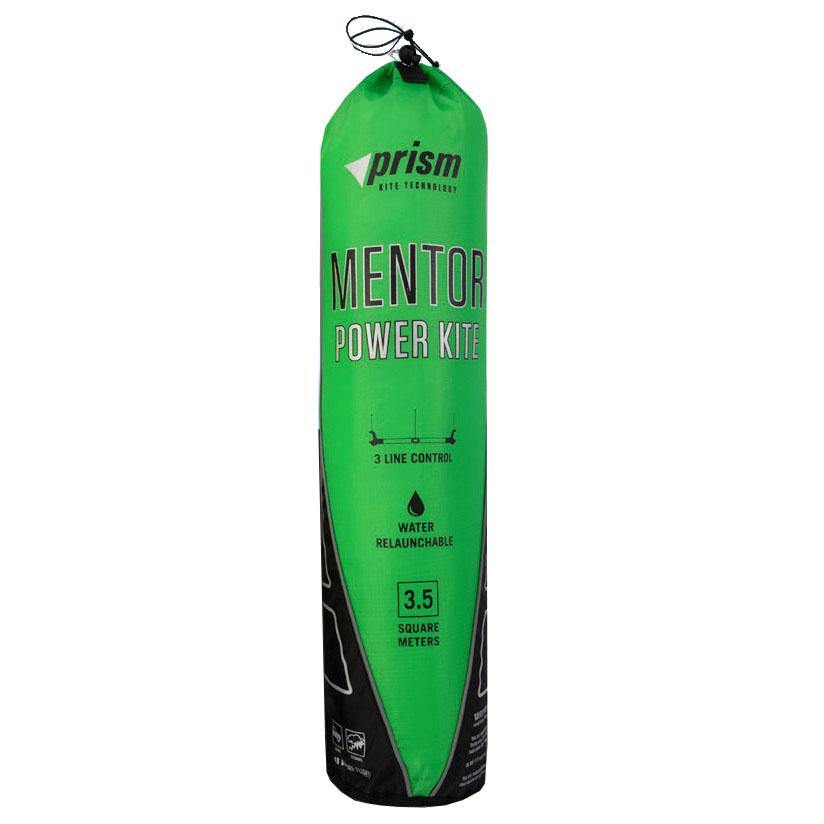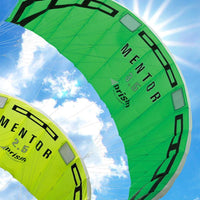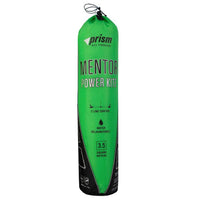 Prism - Mentor 3.5 Power Kite
Amphibious Power Kite for land, snow or water
Announcing the newest addition to the Prism Power Kite line-up, the Mentor!
What can you do with the wind? The Mentor is high performance power that is easy to fly and incredibly versatile. It is a great intro to power kiting that will pull you on a buggy, landboard, snowboard, paddleboard or just the soles of your feet, without the complexity and expense of four-lined control. With one-way air inlet valves and leading edge profile supports, the wing maintains its internal pressure and 3D shape for smooth, forgiving control even in light or gusty winds. Three-line control lets you instantly put the kite in reverse and back it off the ground or water for easy relaunch without a helper, and if you crash on the water the kite will happily float while you recover. That means you can fly even on narrow beaches where your wind window is over the water, or jump in and play with body dragging, paddleboarding or all kinds of wet fun. The third line also provides a simple and effective safety system - just let go of the bar to instantly de-power if things get out of hand. Comes with everything you need including low-stretch Dyneema lines, control bar and safety system, easy-to-pack compression bag, even a stainless ground stake to secure the rig when you need a break.
Three-Line Control
Just pull the middle control line to relaunch easily from land or water or depower instantly in an emergency
Water Relaunchable
Flying over water? Don't worry if you crash! Fabric intake valves keep water out and the wing full of air while you relaunch, so you can fly in places you would never risk crashing a regular foil kite.
Profile Supports
Flexible leading edge stiffeners in each rib maintain a clean airfoil shape for smooth, efficient performance even in light or gusty winds when a regular ram-air wing would collapse.
Ground Stake and Safety System
Includes a safety leash and detachable wrist strap so you can just let go of the bar to depower the kite if things get out of hand. Stainless ground stake lets you secure the rig safely when you need to take a break.
Specs:Wing span flat:
 132"
Packed Size:
 28" x 6" x 6"
Wind Range:
 4-25 mph
Flying Lines:
 400lb and 150lb x 75ft Dyneema lines
Powerful kite that easy to fly
This kite is a blast to fly and it generates powerful pull that can drag my 175lbs around when the winds are around 15-20mph. Once the kite inflates the air is trapped inside by the one way valves so the kite doesn't collapse at the edge of the wind window which makes it very easy to fly. The entire package is very high quality and I really like this kite when the winds are above 10mph.
Prism mentor 3.5
What fun, moves my fat as@ around lol. It's a great workout using a must have for enthusiasts.. Kitty hawk did a great job and treated me great thank you