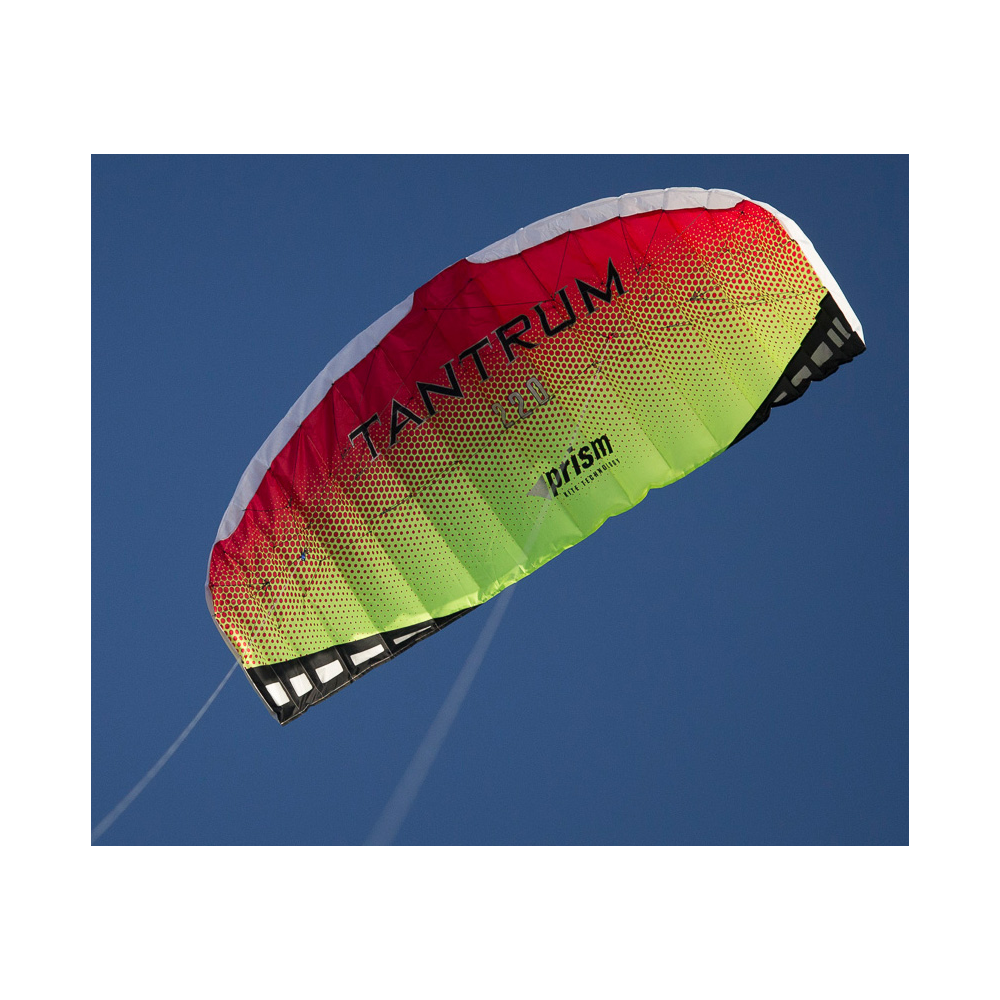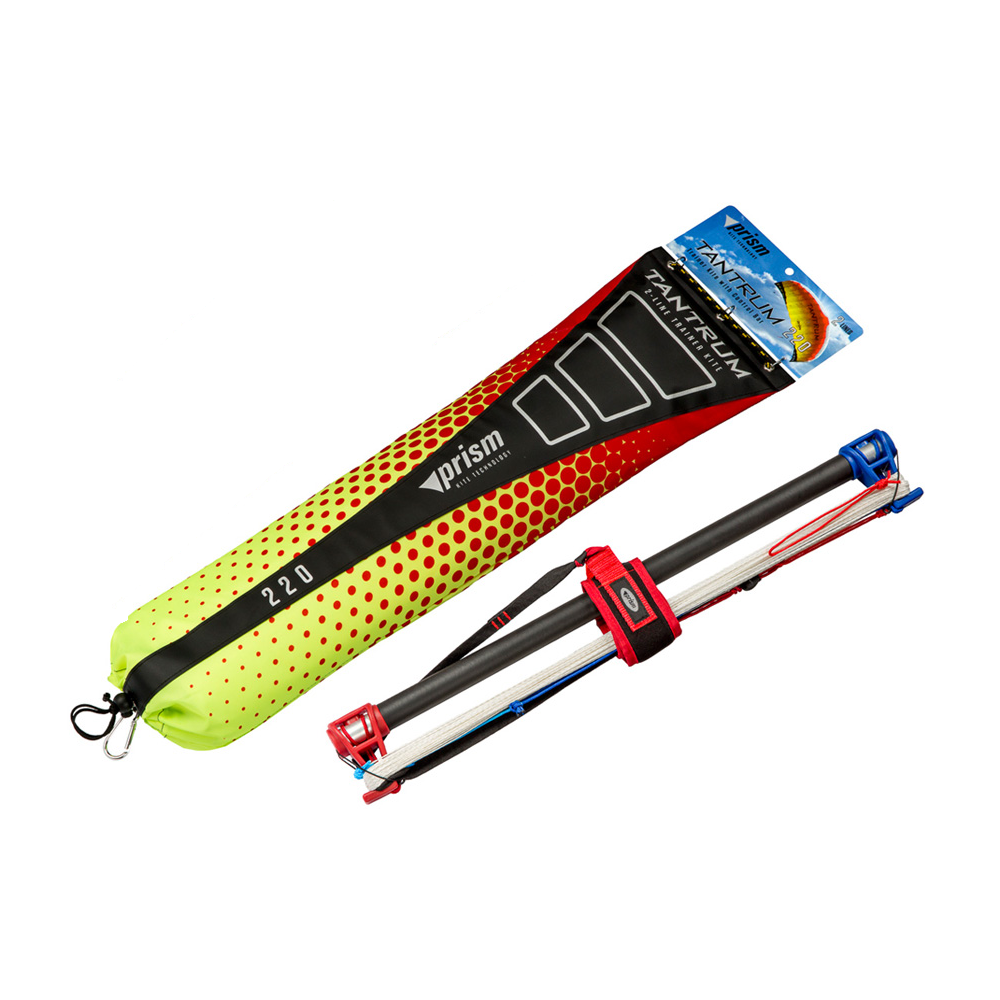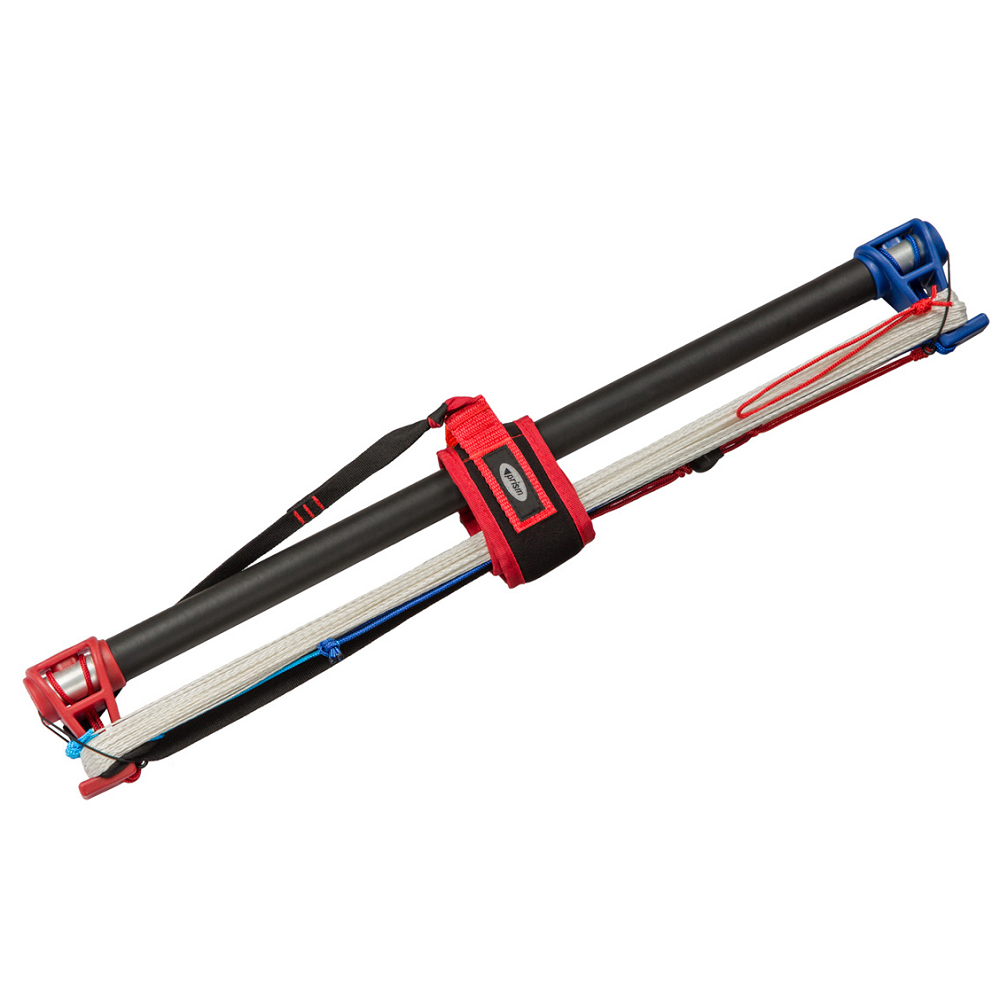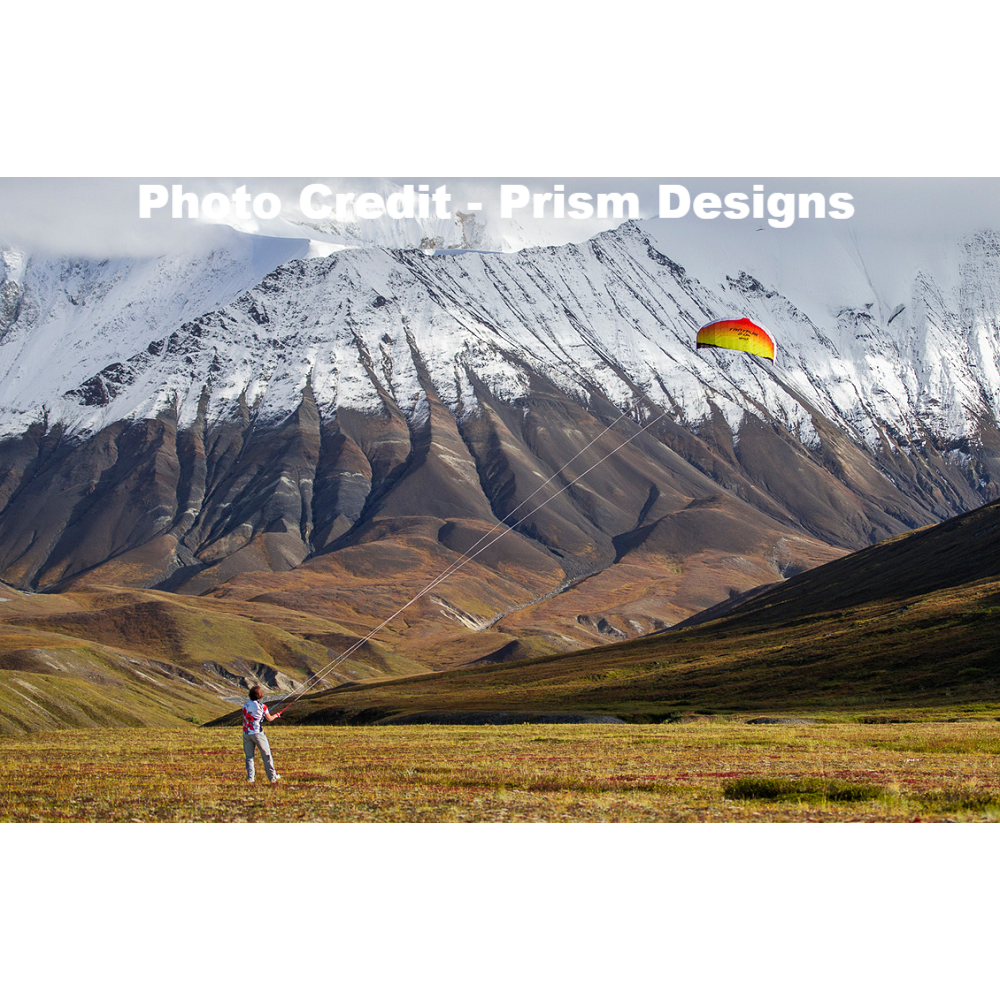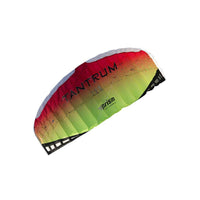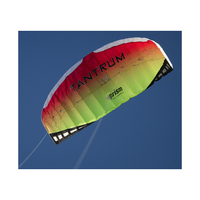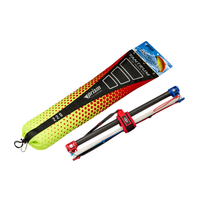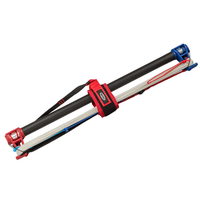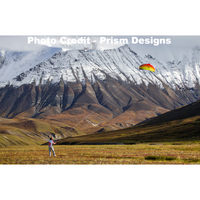 Prism - Tantrum 220 Power Foil/Trainer Kite
Designed specifically for dual-line bar control, Tantrum trainer foils are simple, rugged, and a blast to fly...and you'll be digging your heels in as the breeze comes up. Perfect trainers for traction kiting, kiteboarding, or all-around fun, they'll teach you solid kite handling skills before you take on the serious pull of a full–sized water or traction kite. In stronger winds, the Tantrum's low-drag airfoil delivers impressive speed and more than enough power to drag you down the beach with an adrenaline-stoked grin. Already rigged and ready to fly, the low-stretch Dyneema flying lines provide instant feedback as the Tantrum blasts through the sky. The cushioned control bar is intuitive to use and doubles as a line winder, and a central trailing edge drains sand or water if needed. Safety leash collapses the kite in an emergency — just let go of the bar and it will settle safely to the ground.

Features:
Dual-line control bar makes learning easy
Fast and responsive, hard–pulling in stronger winds
Choose from 2 sizes (220 or 250) to match your weight and wind conditions
High-aspect wing for speed and aerodynamic efficiency
Includes control bar, safety leash and high-performance Dyneema lines

Specs:
Skill Level: Beginner–Intermediate
Wing Span: 86.5" (220 cm)
Wind Range: 5–25 mph (8 – 40 kmh)
Speed: Moderate
Pull: Medium–Strong
Sail Material: Ripstop Polyester
Flying Lines: 85' x 150lb Dyneema (26 m x 68 kg)
Yes!
I bought my Tantrum 220 at Kittyhawk kites and have flown it about 10 times now. It is loads of fun and can pull very hard. I previously had a 1.3m foil kite and the Tantrum 220 is an excellent next step or even a good starting kite as long as you don't take it in winds over 20mph. The kite could pull with 150lbs of force in winds stronger- I did, and landed on my face! Still I'd recommend. It has a straight bar with wrist leash, nice carrying bag although not as well made as the kite itself. Bring two water bottles with you to weigh down the tail edge of the kite before unwinding lines and flying. Tons of fun highly recommended.
Favorite stunt power kite
This is by far the favorite 2-line Power Kite I fly, I have many kite I always go back to my Tantrum to fly on those 8-15 mph days , yes it will fly in slightly less wind and a lot more wind. As a 167 lb older kite flyer I like to enjoy flying more so than being dragged around,Lol. This kite is very responsive, its quick by design and a blast to fly.
Great high performance kite
When the wind is too much for lesser kites, this is your go to! It's got great control, comes strung and has a bar that makes it easy to control and roll up the control lines when you're ready to go home. I would say it is a two person kite unlike some airfoil kites I've flown, it needs someone to hold it above ground just a bit to inflate and then you can take off. Maybe I'll figure out a trick to doing that on my own at some point but what's the fun in flying alone? Highly recommended for new users to this kind of kite flying in higher winds.
Great trainer kite
Bought this kite as a prelude to a full size kite to kiteboard with. Flying it is a blast and brought out the young boy I me again. Sounds like a win-win to me. Thanks Kitty hawk kites. SJ
Disappointed.
This is my prism kite and after flying the first one a few times was excited to get a bigger one. when it arrived could not wait to get it in the wind! Went to beach to fly the kite for the first time.
when I took it out of the bag and after the string was about half unwound, one of the strings was wrapped around all the remaining string. Not sure how that was even possible. I ended up having to untie it from the kite and spent about 45 minuets unraveling and retying after making sure the strings are the same length to the fly bar. Do sure I will buy from this company again or recommend to my friends as quality control is lacking.