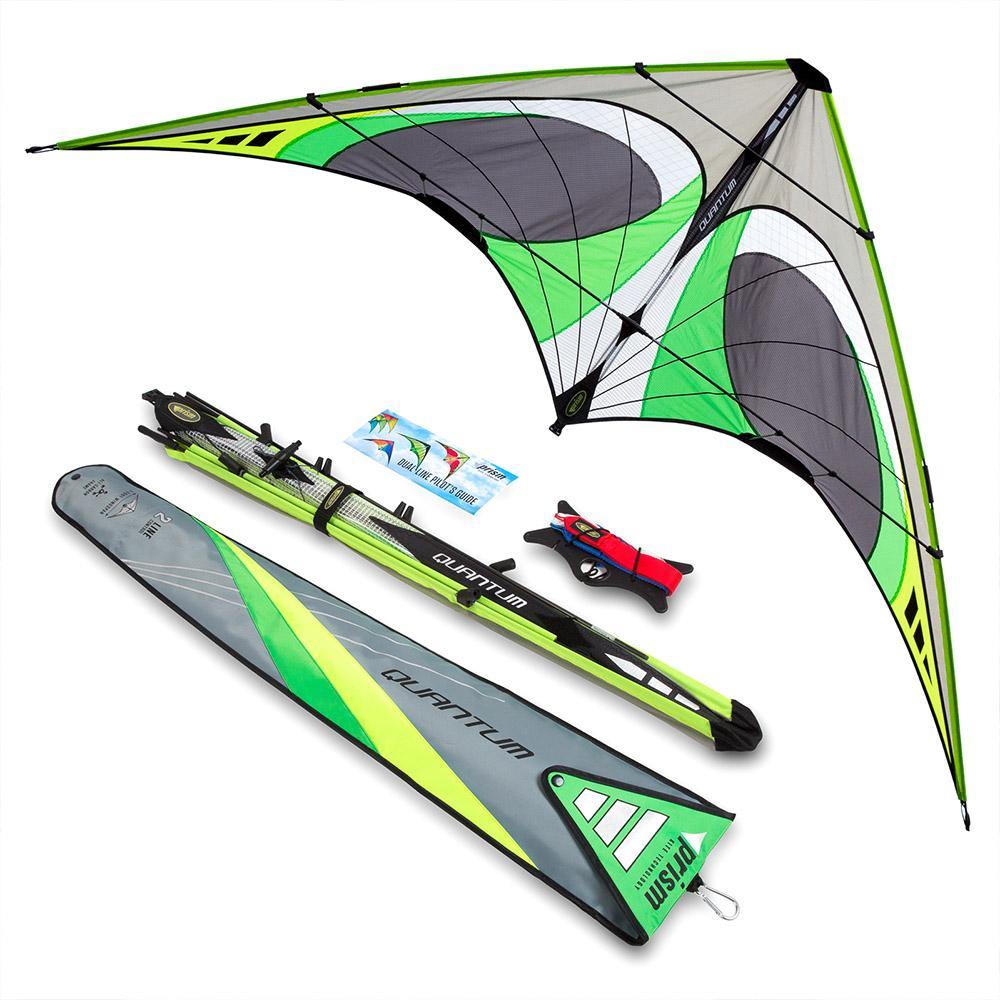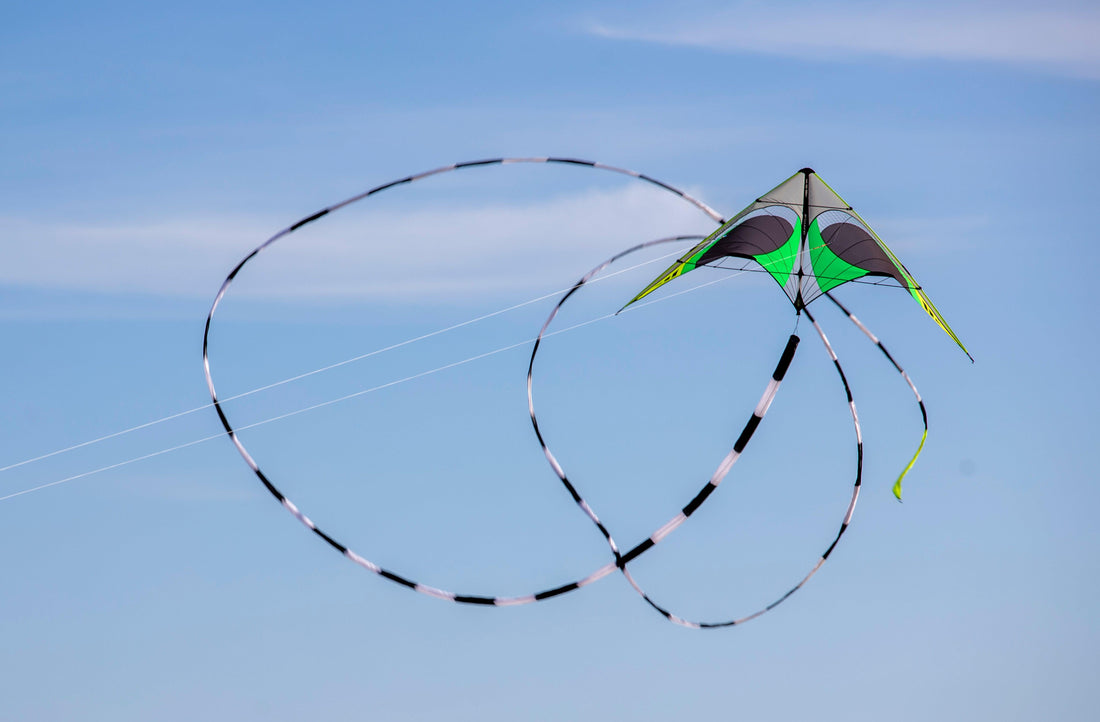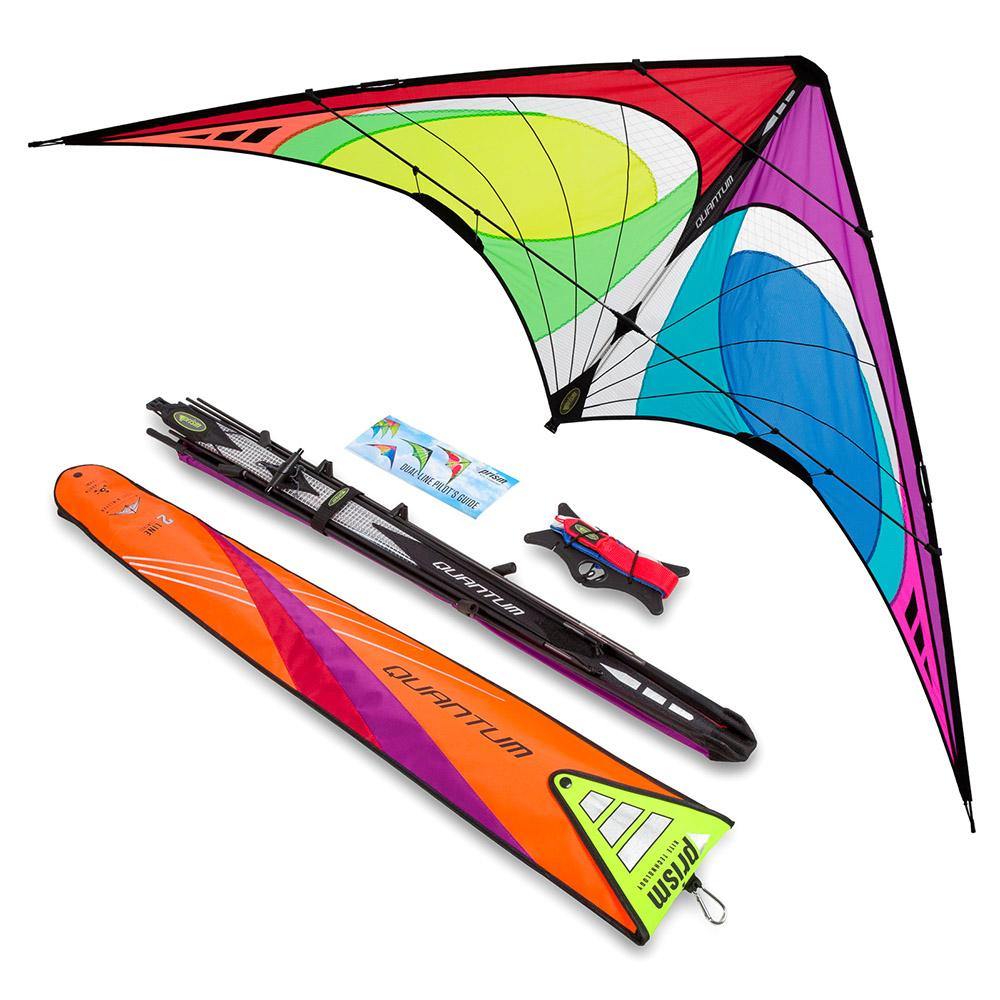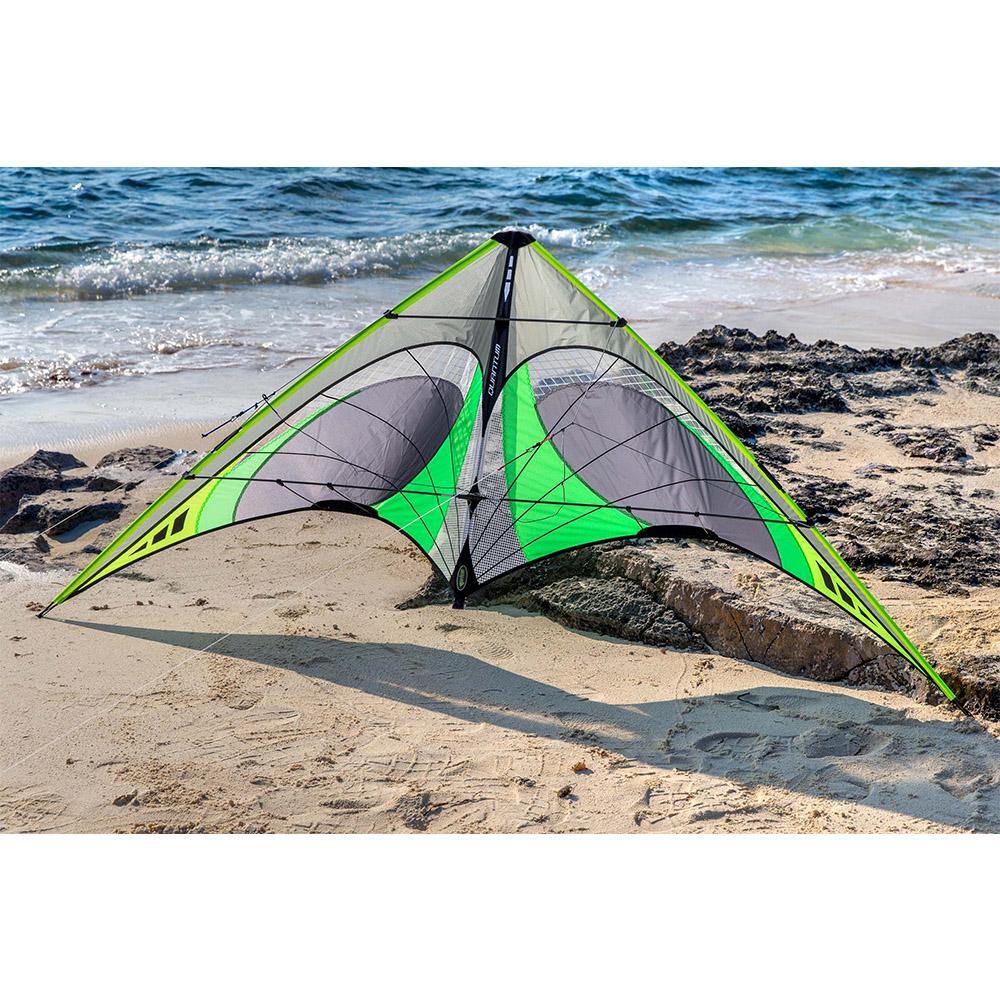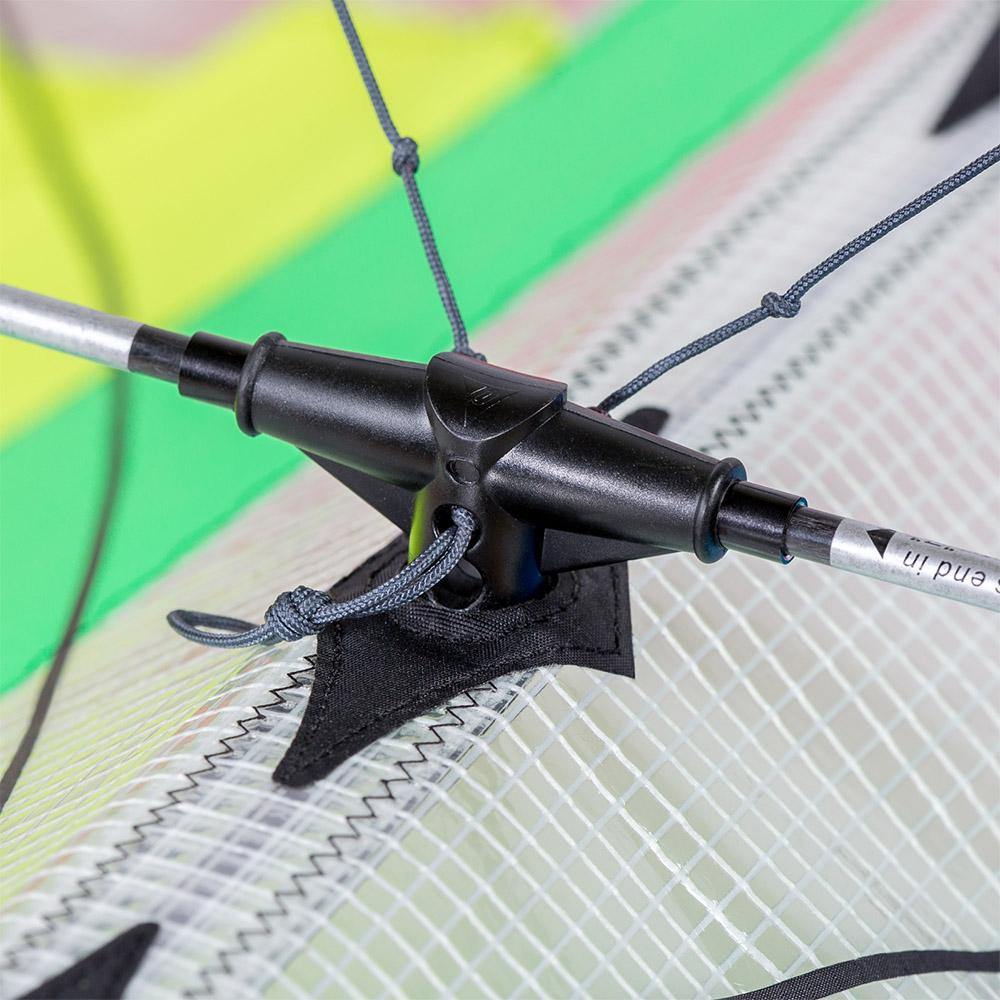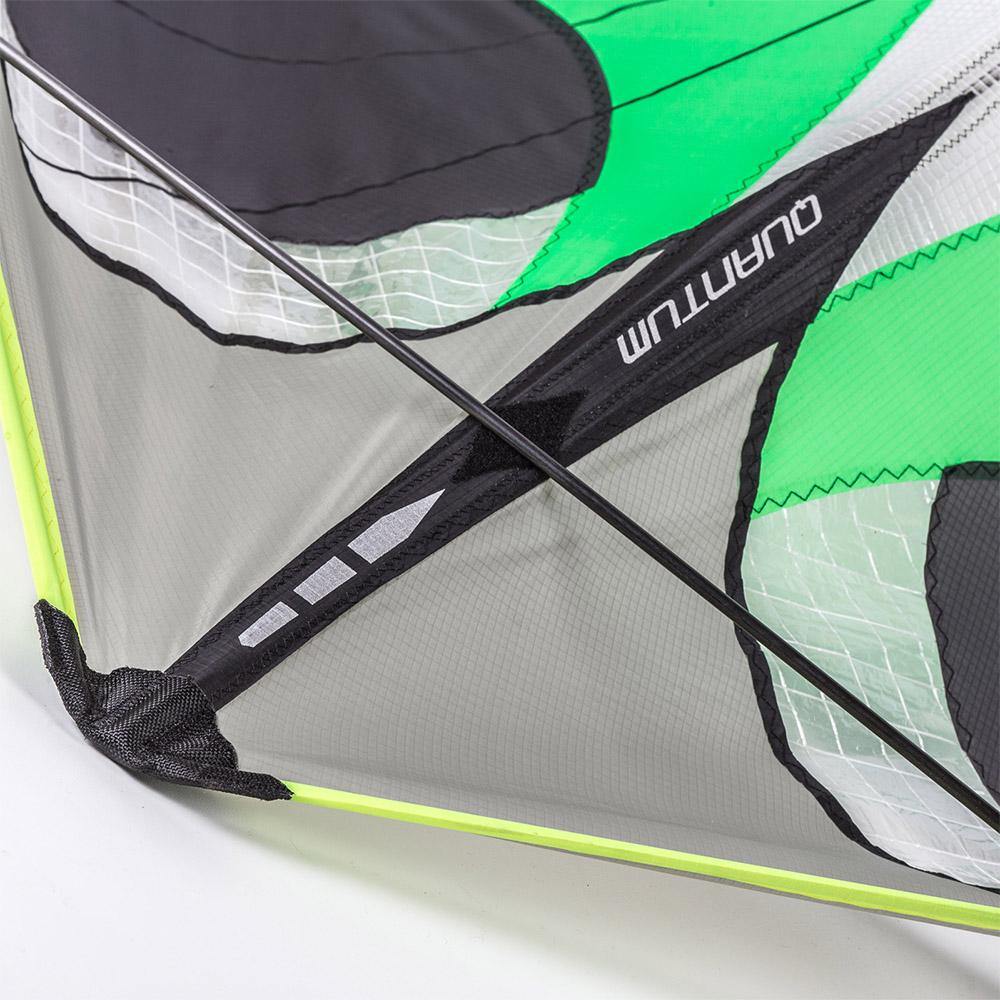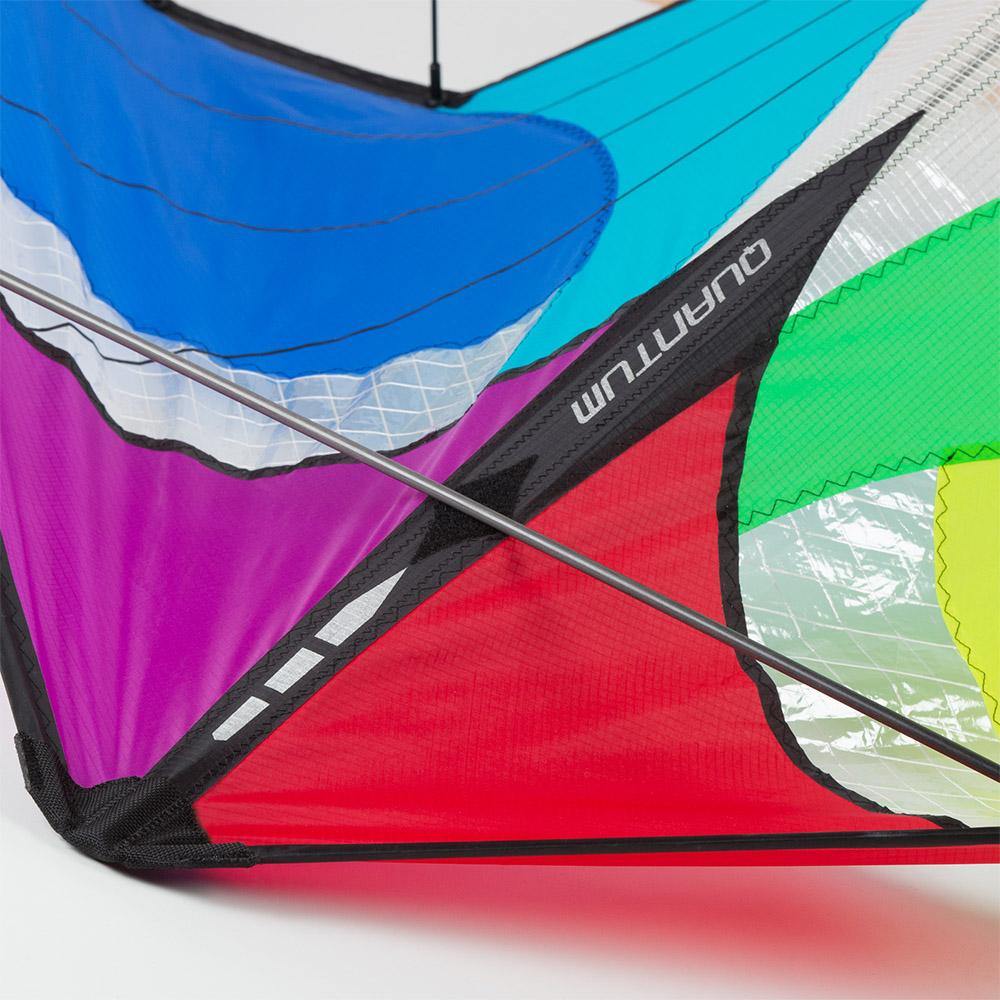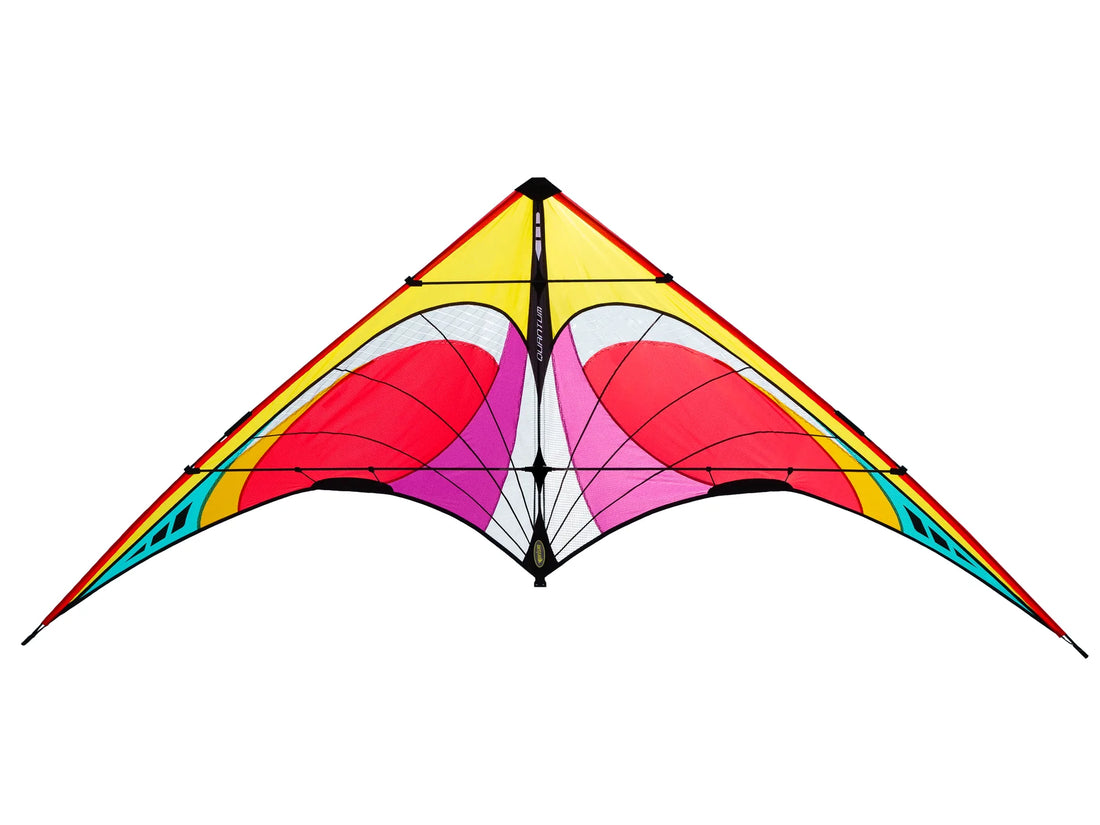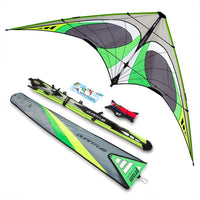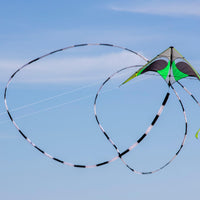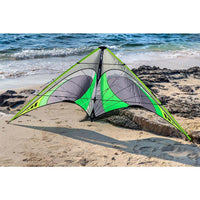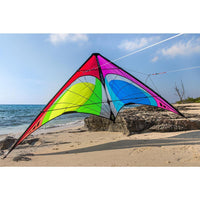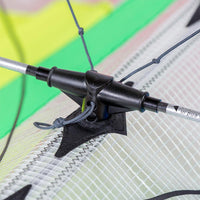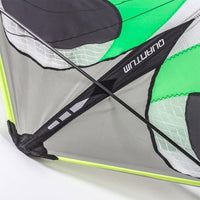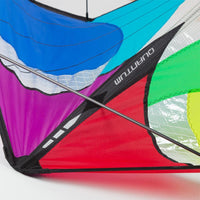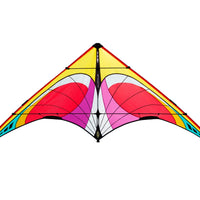 Prism - Quantum 2.0 Stunt Kite
If it's not broken don't fix it? To heck with that – we gave the legendary Quantum a fun upgrade for 2020 anyway! The goal was to keep everything pilots love about the Quantum while adding even more flight performance, some sweet details to make it easier to use, and fun new graphics and colors just to freshen things up.

We've tweaked the wing shape to give it even better tracking and additional stability, making it easier to keep aloft in light winds without pro-level skills.
We've made a subtle change to the bridle geometry and added a super-quick, one-step bridle adjustment at the center T so it's a cinch to set your kite for different winds.
We've upgraded the bag to a new design that lets you roll it up and clip to a belt loop while you fly – no more bags blowing down the beach in the wind. An external pouch for your lineset keeps it from getting tangled. In a hurry to get off the beach? A cleverly hidden extension sleeve pops out if you want to store your kite full-length without folding the leading edges.
The Quantum now features removable, color-coded line attachment clips, so you can just pop off the clips if you prefer to attach lines with an old-school Lark's head knot.
Ready to replace a well-loved older Quantum? The Quantum 2.0 keeps the same frame geometry, carbon rods and fittings so it's backward compatible – no new spare parts needed!
Specifications
| | |
| --- | --- |
| Packaged Weight | 1.5625 lbs |
| Packed Size | 36 × 4 × 4 in |
| Wing Span | 87" (221 cm) |
| Wind Range | 3 – 25 mph (5 – 40 kmh) |
| Frame | Pultruded Carbon |
| Sail | Ripstop Nylon, Mylar Laminate |
| Flying Lines | 85' x 150 lbs Dyneema® (26 m x 68 kg)  |
Love this kite
I bought this kite as a gift, the 5th I've given to others. I already have 3 of these and they are fantastic kites. Smooth, predictable, and graceful. My favorite kites to fly for years now.
Very responsive kite!
A friend and myself bought this kite… just different colors. The kites are so responsive and pretty quick. We did fly a couple of hours on the beach with low winds. Not a problem getting the kite in the air. My friend who never flew a kite could fly this well as a beginner! I am a bit more experience but still a perfect kite for me!
WOW
Looks amazing and flys great. Love it! Had a bum bungee but customer service was excellent and got me a replacement right away. Added a 75' tail that's a lot of fun.
What! A! Kite!
I loved the Prism Nexus 2.0 so much, that a couple days later I went back to KHK and bought a Quantum 2.0, and I was incredibly impressed by it. Incredibly stable, very responsive, and with their quick adjust bridle, I was able to change the angle of attack to get it doing some very tight turns and loops similar in size to much smaller kites. I even bought a 75 ft tube tail for it and had a lot of fun doing some skywriting. I was worried the tail would make it feel sluggish, but the Quantum 2.0 didn't flinch. Low passes, stalls, and side slides were a breeze to figure out with this kite. This is now my new favorite kite.
Love it but one issue
I hadn't bought any new kits in 30 years so this was a huge step up! It's great to see how much the technology has improved.
My only negative feedback is that the elbow joints that hold the longest pieces of the frame (from the center out to the sides) can easily fall off if you're not careful. The kite is made so you can fold it up and shorten the wings. But be careful because when you release the sides to fold them, the elbow pieces easily fall off. This happened to me on my first flight and I was so disappointed when I went to fly it for a second time and couldn't put the kite together. fortunately I was able to salvage pieces of medical tubing from my 30 year old kite. The next day I went back to the park where I'd first flown and thank goodness I found them both in the grass under the tree where I had set up! Those pieces could have been lost forever but I was lucky that time.