In The Breeze
In The Breeze' Story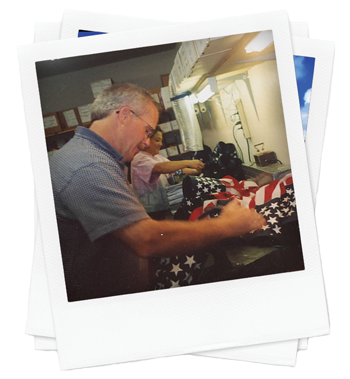 In the Breeze was established in 1985 by Bill Dual and Debbie Schomberg. Starting out with a limited number of quality U.S.A. Made Windsocks, Baby Soc's and 3D Flower Shape Windsocks, In the Breeze quickly branched out and began stocking over a hundred different styles.  In addition to regularly stocked designs, In the Breeze also made thousands of custom designed windsocks for not only resale, but also advertising purposes.
Our product line has significantly grown in the past 30 years with the goal of offering quality products that will enhance product assortments, turn quickly and provide strong margins for our valued retailers. The product development team is constantly researching the newest trends in the outdoor decorative and kite industry and working to bring to the market— quality,  innovative, unique, products with great value. We are now designing and importing items to give retailers better variety while keeping prices low.  Let us know if you have any product ideas worthy of our name. We'll see what we can do.
Our tradition of quality products, good service, and fast shipments has earned 
In the Breeze
 many prestigious industry awards from the Gift & Souvenir Industry and the Kite Trade Association International including multiple Best Booth, Best Manufacturer and Wholesaler, Best Product and the coveted David Checkley Lifetime Contribution Award.
David Checkley Lifetime Contribution Award: 2008

Manufacturer/Wholesaler of the Year: 2001, 2010, 2011 and 2013

Best Kite of the Year: 2013

Best New Product that is not a Kite: 2009, 2010, 2012

Best Trade Show Booth: 2000, 2002, 2003, 2005, 2007, 2010, 2012, 2013

Best of Floor Award for Outstanding Visual Display by The Atlanta International Gift & Home Furnishings Market: 2012