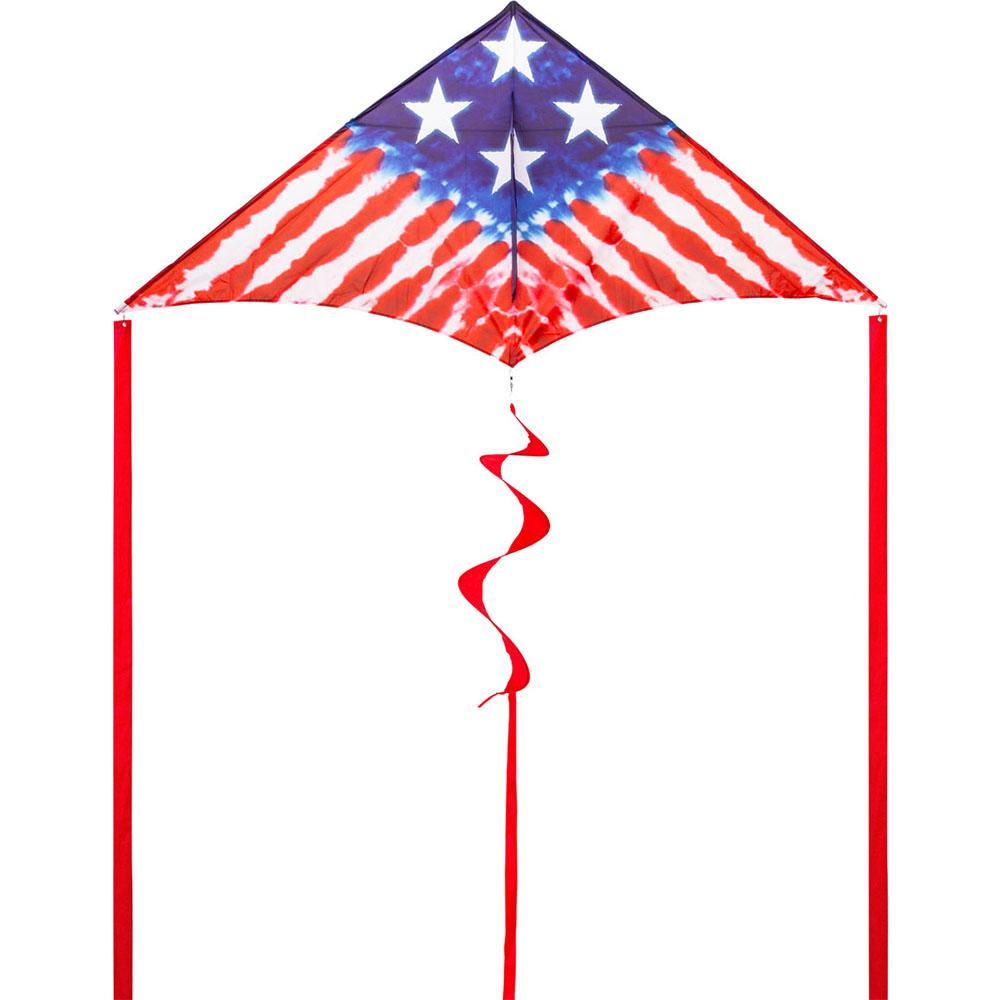 The Delta Freedom Flyer 2M is the most patriotic kite you will ever fly.  This large 83' x 39" Red, White, and Blue tie-dye delta is sure to turn heads as it soars over them.  Built from durable fiberglass and polyester, this kite has a very wide wind range of 5-24 mph.  The Delta Freedom Flyer is the perfect kite for anyone from a beginner to advanced skill levels.  Show your American spirit and fly high with the Freedom Flyer!
Contains:
- 1 Red corkscrew tail 
- 2 White streamer tails 6' each
- 200' of 100 lb. high quality test kite line on spool
FLYINGHIGH
Purchased for granddaughter to fly on the beach for Thanksgiving. She assembled it incorrectly and it would not get into the air. After reviewing the instructions and correctly connecting the line to the kite it was a beauty on the air. Great kite and definitely a keeper!!!!
Great performer !
Great design! Performed well throughout it's wind range. Upgrade the bag …. Its a keeper !
ALLS GOOD
PURCHASED FREEDOM FLYER KITE. MUST ADMIT DIDNT INSPECT UNTIL I TOOK OUT TO FLY IT.MY OOPS. WHEN OPENED THE CROSS MEMBER ROD WAS SPLINTERED. I TRAVEL ON A SCOOTER, AND RODE LIKE 40 MILES. AND WIND WAS PERFECT. I GORILLA GLUED IT.. WRAP ZIP TIES ON IT AND UP SHE WENT.
INSTEAD OF THE HASSLE OF RETURNING IT, CONTACTED MAKER IN "GERMANY" INVENTO. WE HAD LITTLE LANGUAGE ISSUES, MELANIE PUT IN TOUCH WITH THE USA COMPANY HQ KITES AND CHRIS MAXA GOT BACK TO ME THE SAMEDAY.... UNREAL !!!
BOTTOM LINE IVE DEALT WITH KITTY HAWK KITES FOR 20 YEARS +. AND NEVER HAD PROBLEM OR ISSUE, OTHER YOU DON'T SEND A NICE 18MPH WIND WITH ORDERS
MY HATS TO YOU ALL. YOU SHOULD BE PROUD OF THE CUSTOMER SERVICE YOU DELIVER. THANK YOU !!! BOBBY C.