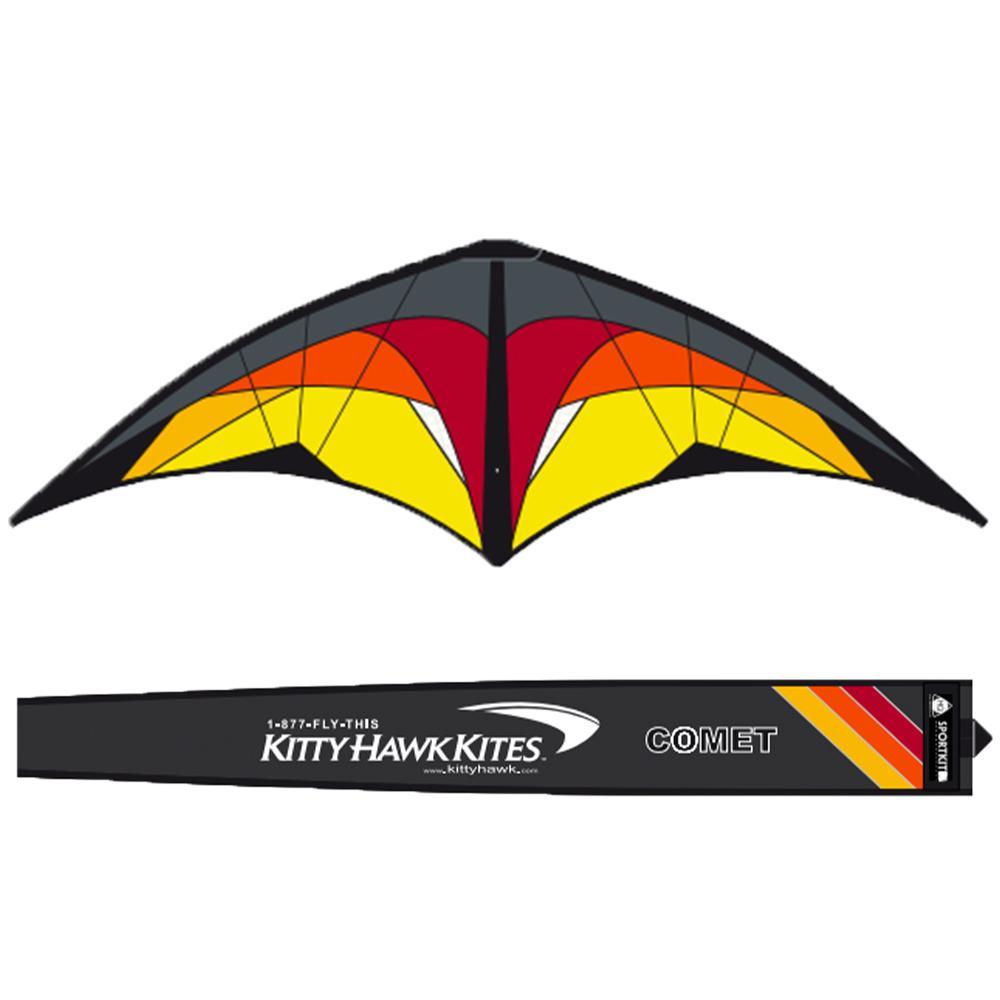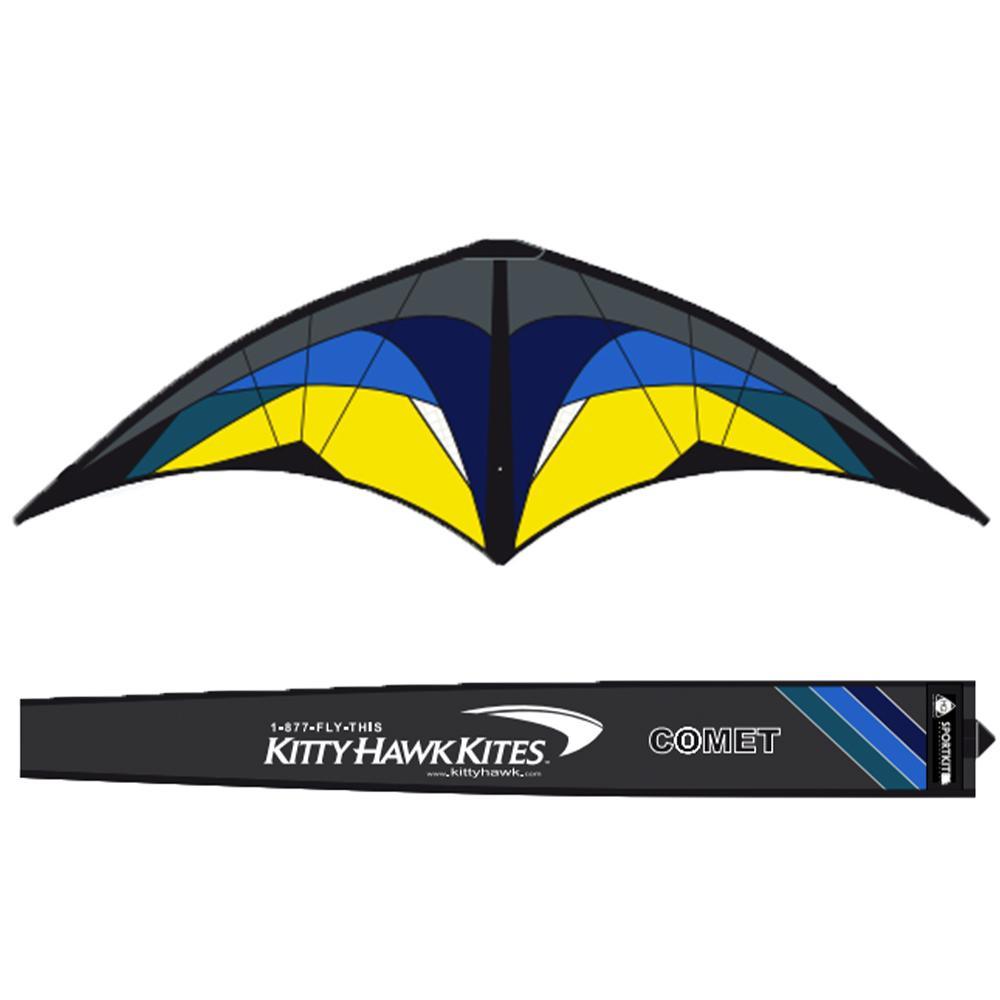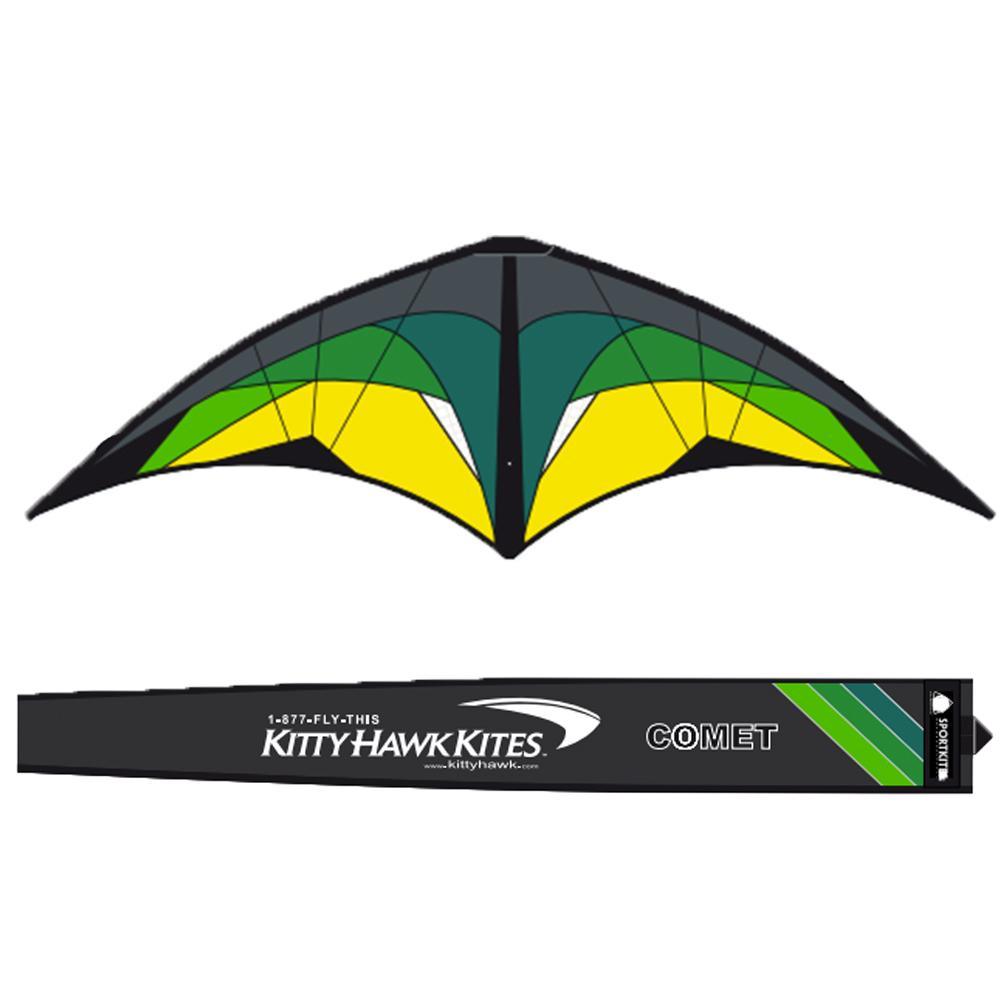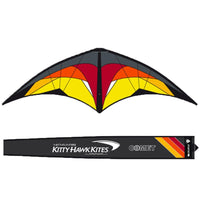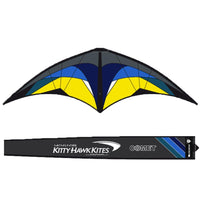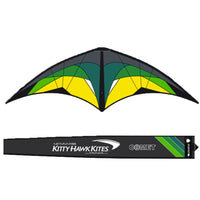 Kitty Hawk Comet Dual Line Stunt Kite
The Kitty Hawk Comet...aka the HQ Bolero.
The Kitty Hawk Comet is an advanced entry level sport kite. Due to its easy handling and gentle flying characteristics the Comet is a very good choice for beginners.
The Comet kite accelerates the learning process and forgives typical steering errors of beginners.
The Comet's frame made of a mix of fiberglass and carbon-fiberglass hybrid technology is extremely solid and nearly indestructible. That way the Comet can withstand many crashes with ease.
The Kitty Hawk Comet dual line stunt kite ensures a precise and stable flight even at higher wind speeds and is the perfect kite to learn all the basic tricks. The Kitty Hawk Comet dual line sport kite comes Ready-To-Fly with kite, line set and carrying bag.
Skill Level: Beginner
Kite Size: 64" Wide, 33" High
Wind Range: 4-24
Frame: Fiberglass 5mm and Fiberglass/Carbon Hybrid 4mm
Fabric: Polyester
Included line set: 100# x 66' blended line set on winder with flying straps is included!
Well made kite, great customer service
I bought this kite as a gift for my grandson. He assembled it but hasn't flown it yet so I can't comment on performance. It is however a very attractive kite and appears well made. I'm sure it will be very durable, and fly well also.
As always, the Kitty Hawk Kites (KHK) staff was very accommodating. This time the helped me correct an ordering error I made. I highly recommend KHK.
Great kite
Bought this kite on a recent trip to Nags Head. This was my first stunt kite and it was easy to fly. Staff was very helpful with selecting my first kite
I have been flying stunt kites about twenty years..I bought the comet to fly in high winds because it is a smaller kite with less pull...it has a nice wind range and is capable of some of the tricks like axel..coin toss. And some others..great kite for a great price...lines are included..kitty hawk kites sells quality products and great customer service..I buy from them when I can...have fun....
Excellent Beginner dual line kite...
I have been flying Sport Kites (SK) for several years and I would definitely recommend the HQ Comet as a great beginners dual line Sport Kite. Although a bit more $ than the SK's you can find on that ginormous internet store named after the largest river in South America.com the Comet is made with much better materials & craftsmanship. It will survive those first earth to ground crashes (unlike cheaper SK's) and has excellent flight characteristics for the beginner. Although it cannot perform "slack line" tricks as well as much more $$$
SK's it is, nonetheless quite capable of basic tricks (loops/zooming/drifting). The Comet is one of my favorite SK's to throw into my car when planning on a beach trip. With a bit of adult support kids can easily fly the basics in a short time. The Comet as well as the PRISM NEXUS (also carried by Kitty Hawk) would be superb first SK Choices for the novice be it a younger person or an adult looking for some excitement outdoors in these covid days. If you are interested in watching a YouTube video that will demonstrate SK flight & trick basics then search for (shameless plug) "2020 beginner's how to fly a Stunt Kite guide" and look for the shorter (13:42 minute) version. If you want to "up your" flying/trick game then check out "DODD's Flight School" (also on YouTube). In any case either the Comet or the Nexus are bone fide fun as well as superb choices for your first Sport Kite....
Love Kitty Hawk kites
My son absolutely loves this kite. He has wanted it for almost a year now after a very kind and patient sales associate at the Kitty Hawk store in the Outer Banks took the time to educate him and suggest the best one for him for his size/height and age. He now finally has it, is enjoying practicing with it in our yard and can't wait to get back to the beach with it this summer. Love Kitty Hawk's online customer service. They shipped out fast and again my son loved his experience in their store.