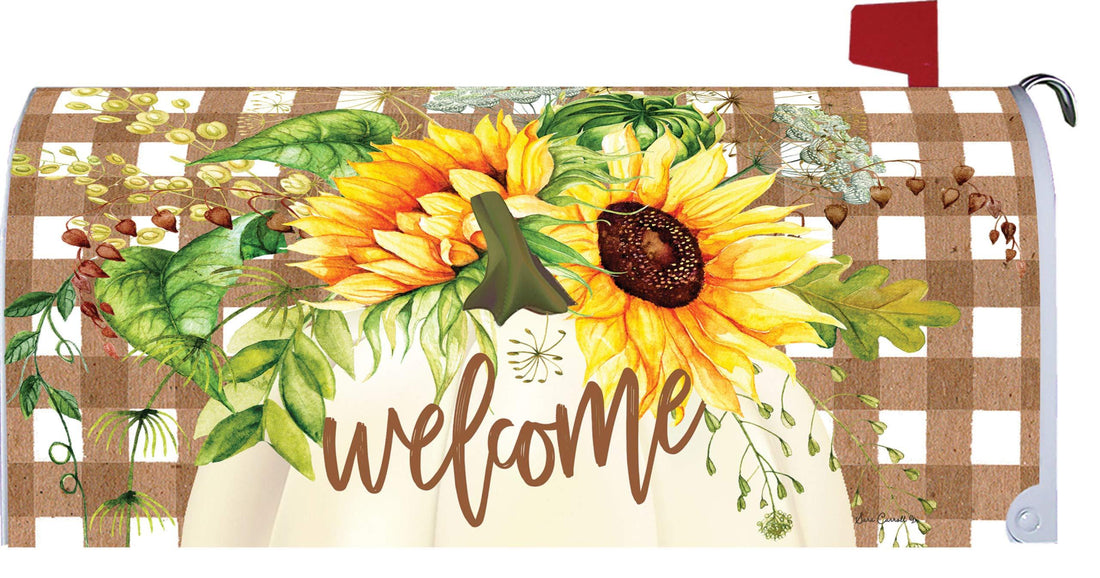 Sunflower Pumpkin Mailbox Makeover
Fits Standard Rural Steel USPS Mail Box 18 inch x 21 Inch - 6 Inch Wide Door - Mailbox NOT included
Magnetic Strips hold tight to Box
Made in USA Copyright, Trademarks and License by Custom Decor Inc.
Optional companion pieces are available to coordinate your display.
Authentic Authorized First Run quality excellence is ensured by a sealed package with Custom Decor Header Card delivered to you. Be wary of missing header cards, these are counterfeit.
This Mailbox Makeover Cover is made with high grade durable vinyl that will
transform your tired old mailbox into a work of art. Sized at 18 Inch x 21
Inch it : Fits Standard Size USPS Approved Rural Steel Mailbox with 6 inch
wide door . Simply attaches by included magnetic strips. If you have a tin,
aluminum, plastic or wood mailbox you will need our ASIN B0056BCJ3O Magnetic
Strip Kit for Non Steel Boxes. Add some Bright bold color to your box. Change
for the season. Add a matching flag to coordinate the colors in your space.